Less than a year ago, Baumfolder Corp. found itself at a crossroads. Like many mature companies their customer base was stable, but not growing. This situation concerned Janice Benanzer, company president. So, she set out to investigate alternatives and found herself at the OU PTAC office in Dayton.
"We have wonderful resources, a broad range of assets, a great facility," Janice says. "We needed to know how to generate new business."
Baumfolder Corporation is headquartered in Sidney, Ohio. The company is a leading producer of equipment for post-press bindery, finishing equipment, mailing equipment and contract assembly for a broad spectrum of applications.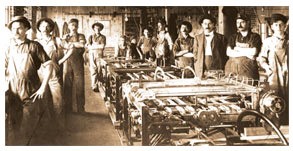 From its humble beginnings in 1917,
Baumfolder's history of product innovation, performance and support has been legendary
"We began working with Bill (Cox), the area procurement specialist," Janice remembers. "The first question he asked was how serious are you. Are you sincerely interested in committing time, energy and resources to connect with opportunities in the world of procurement."
With a resounding "yes" Bill and Baumfolder went to work. "First, we needed to get registered, write our capability statement, and with Bill's help we reached out to get up to speed on available bids. Bill was with us every step of the way," Janice says.
Training offered by PTAC also put Janice's mind at ease. "It was very clear and presented in layman's terms that everyone could understand." Starting in February, "Training Tuesdays" will be available on-line to offer advice and insight about procurement across the 55 counties in the OU PTAC network. Click here to access the Training Tuesdays calendar.
In less than a year of diligent concentration on answering the call for contractors, Baumfolder successfully bid on two contracts – provide details here.
Enthusiastic about their two recent awards, Baumfolder is hopeful the company will grow along with its procurement opportunities. "I admit, I'm impatient. But it's my job to be impatient," Janice smiles. "It's a pleasure to watch this company develop new core business opportunities and be an involved part of manufacturing growth in the Miami Valley."
For additional information about Baumfolder Corporation, contact company president Janice Benanzer at Janice.Benanzer@baumfolder.com, 937-494-1267 or visit their website baumfolder.com
Bill Cox, Procurement Specialist
Ohio University, Voinovich School of Leadership
PTAC Dayton
2642 Indian Ripple Road Dayton, OH 45440
T: 937-306-1469
F: 937-306-1492
C: 937-672-4289
coxw2@ohio.edu
www.ohio.edu/ptac